A New Favourite Christmas Recipe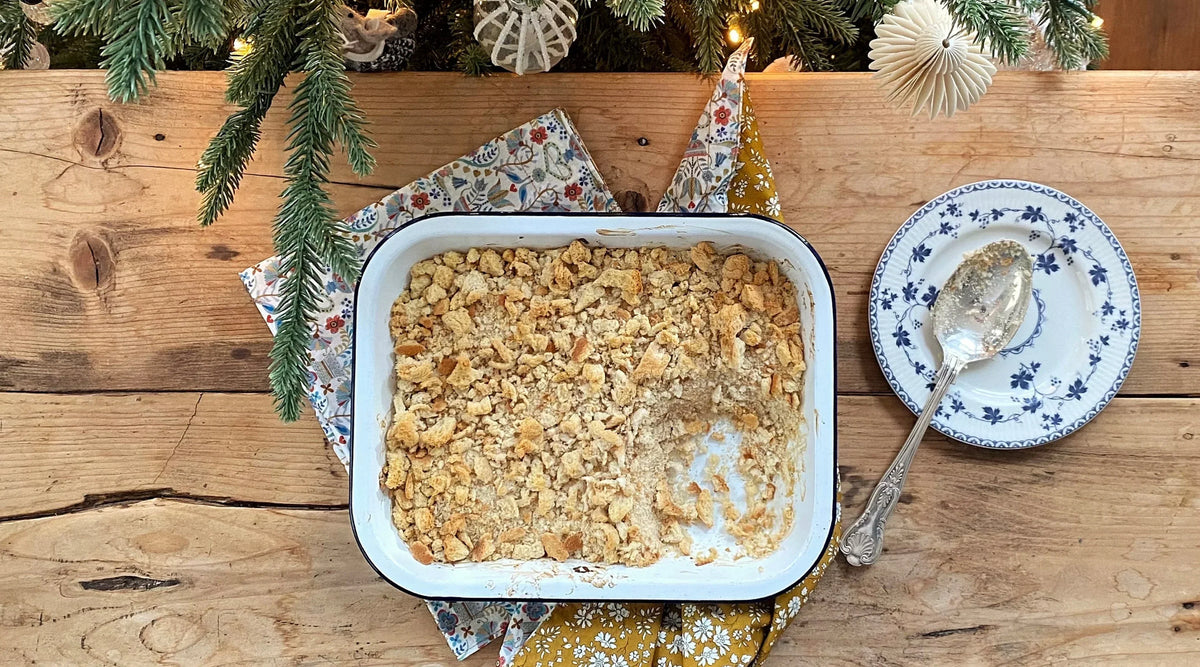 Trying to pick a recipe to share with our wonderful customers over Christmas was tricky. Should it be a sparkly cocktail for seasonal soirées? A festive make to be given as gifts, or, something for the main meal itself? All of them would have been appreciated, I'm sure, but then I was reminded of this recipe and wasn't able to forget about it, and so here we are! This celeriac gratin is quick and simple enough to not feel like a huge undertaking (and it can be made ahead of time); it will give you a new idea for a seasonal vegetable you probably don't use very often and it's so delicious, rich and comforting that everyone will love it. Sounds pretty perfect, wouldn't you agree?
This decadent celeriac recipe has actually been bounced around my family since I was a child. I remember our family being invited to dinner by friends (Tony and Janet - hence the name, Janet's Celeriac Gratin) and my mum leaving with the recipe written on a scrap piece of paper. When I asked Janet earlier this week where the recipe had originated from she said it was originally made with parsnip, but one day she switched to celeriac when the greengrocer offered her one for free and never looked back! Years later, I now make this as a side dish when we have friends over for Sunday lunch and often it features on our Christmas day menu. It's much loved, indeed, even by the children and it really is a pleasure to share with you today. I particularly love it because it can be whipped up in half an hour in the morning before being popped into the oven 25 minutes before the main meal is dished up. Many friends say they never know what to do with this less than beautiful to look at yet incredibly versatile root vegetable but they too often leave with the recipe jotted down on a piece of notepaper, no longer avoiding it at the farm shop! I do hope this one will make your Christmas menu this year. Enjoy.
Janet's Celeriac Gratin
1 celeriac (mine was around 750g unpeeled)
1 tablespoon of sesame oil
25g salted butter
2 tablespoons of crème fraîche
Whole nutmeg
Breadcrumbs from a stale loaf
Method 
Preheat your oven to 180°c. 
Peel the celeriac - you can do this using a vegetable peeler or just slicing the skin off with a sharp knife. You want to remove the rootlets and knobs too. 
Coarsely grate your celeriac. I do this using a food processor for speed but you can also use a box grater.
Heat the oil and butter together in a heavy-based saucepan over a medium-high heat until the butter is melted and bubbling.
Turn the heat down to medium and add the grated celeriac. Give a good stir so all is coated. Cook celeriac for approximately 10 minutes, stirring occasionally, until it takes on a gorgeous golden colour. 
Take the pan off the heat and season well with salt and pepper. Celeriac always takes more seasoning than you think and so be generous and keep tasting. Add your crème fraîche before giving the whole thing a really good stir so it's fully coated, delicious and creamy. 
Finely grate around quarter of a whole nutmeg into the creamy celeriac mixture before giving another really good stir. At this point I always have a little taste just to check seasoning. If you need to add more then go for it - this is all about personal taste. 
Finally, transfer to your baking dish and spread into an even layer before topping with breadcrumbs. Bake this in the oven for 25 minutes, until the breadcrumbs have crisped.
TOP TIP
Never throw away the stale end of a loaf. I whizz mine up before popping into a bag in the freezer. That way there's always breadcrumbs to hand and nothing goes to waste. 
Posted on 12 December 2021