Caring for your Liberty Fabric Table Linen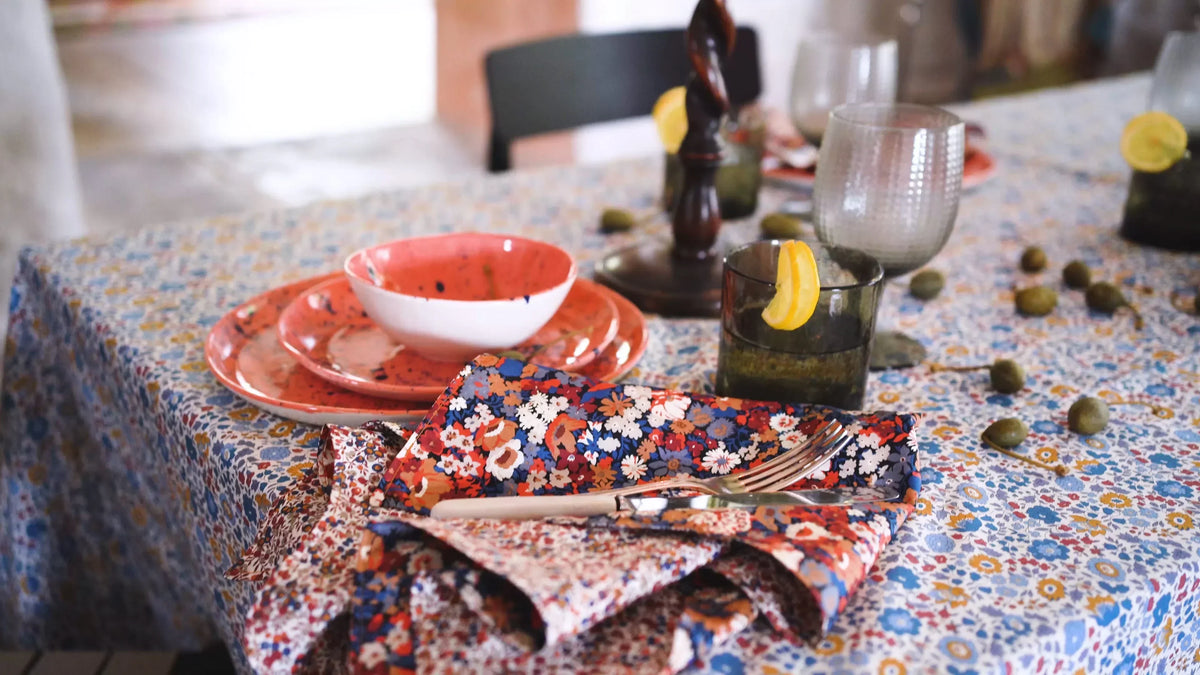 Coco & Wolf's table linen is best described as modern day heirlooms which make even the most every day meal feel special. We're certainly not advocates of keeping these pieces for best! A Wednesday morning breakfast will almost definitely be exponentially improved with a gorgeous Liberty fabric napkin, while Sunday brunch looks all the more inviting when served on a beautiful table all dressed up. So how do you care for your Liberty fabric napkins, tablecloths, runners and placemats to make sure they're still perfect for many meals to come?
Washing your Liberty Fabric Table Linen
Having to wash your table linen regularly is par for the course when you're dressing the place where you share mealtimes. Inevitably there will be splashes and spills. Thankfully, to make all of our lives easier, Coco & Wolf's Tana Lawn cotton table linen is machine washable.
For best results, don't overload your washing machine and keep table linen to its own wash. If you do need to mix your napkins and table cloths with other laundry avoid any sharp edges or abrasive materials which may catch on the luxury fibres.
A warm wash at 40 degrees will keep your table linen perfectly clean and fresh, while washing on a slightly cooler 30 degree cycle is even kinder to the planet. 
As Tana Lawn cotton is a natural fibre it gets softer throughout the washing process, almost entirely eradicating the need for fabric conditioner which can build up and dull the natural lustre of the fabric. If you do like to use conditioner, just remember, a little goes a long way.
For stains flush out the offending spill as quickly as possible under cold water - never use hot water which can lock stains in. If the stain sets, spot treat it with a solution of half water and half vinegar before washing. Always line dry marked items on a sunny day and let the sunshine work its magic.  
Drying and ironing your Coco & Wolf Table Linen
Coco & Wolf's preferred and recommended way of drying table linen will always be on a washing line, outside on a sunny or breezy day. This is not only kinder to your table linen but the environment too - plus you cannot beat the smell of anything dried on the line! But, we know the weather won't always be on side, so drying draped over a clothes horse next to a gentle heat source is the next best option. 
Pull tablecloths, runners and napkins tightly when pegging out to naturally remove creases.
When it comes to ironing, we recommend ironing whilst your linen is still a little damp - it makes the whole process much easier and creates better results. This also revives the lustre the fibres sometimes lose when being washed. 
Once clean, dry and ironed, store your table linen somewhere cool with good air circulation. Heat is scent's number one enemy so avoid cupboards which aren't opened often. You can further avoid any musty smells in your table linen by ensuring it is completely dry prior to folding away. 
Shop for your Liberty Fabric Table Linen
Posted on 09 October 2022