Exclusive Print Spotlight: Michelle in Sand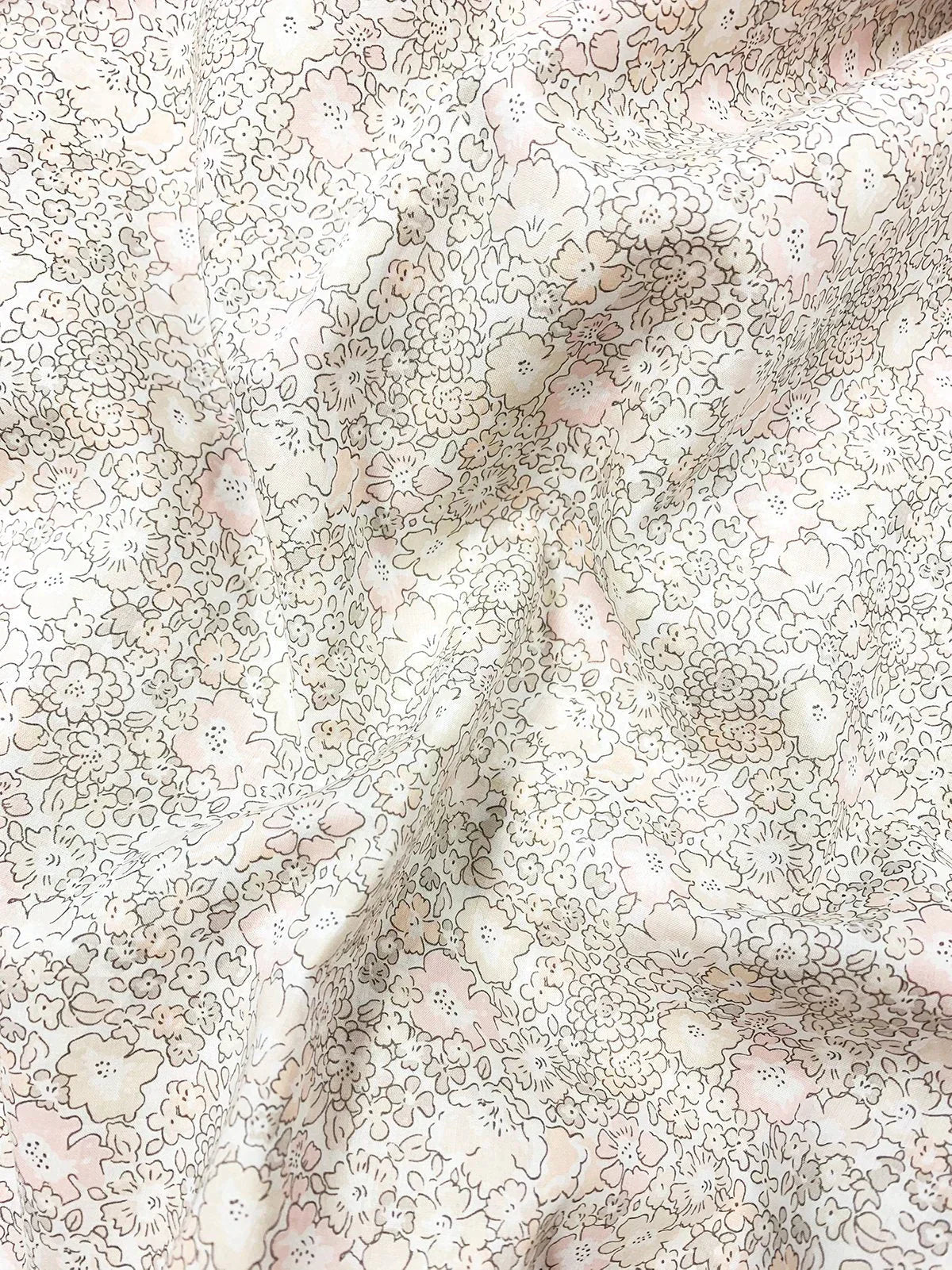 The Liberty Fabrics department is a true design institution. With a world-renowned, 50,000-strong print archive and an in-house design studio continually hand painting and drawing new artworks, it truly is a creative hive. Whilst the design studio often reworks and recolours interpretations of Liberty's heritage designs, it is a rare opportunity for a brand to be invited to develop exclusive colour ways and prints from the archive. From ornate Art Nouveau layouts and classic 1930s ditsy florals to bold geometrics, landscapes and offbeat conversationals, there is a lot to discover, and thankfully, that invitation landed at our door!
We're thrilled to introduce you to our new neutral, Michelle in sand, on both Tana Lawn™ cotton and silk. Developed by Coco & Wolf and available exclusively through cocoandwolf.com, you'll never find this barely there beauty anywhere else.
ABOUT MICHELLE IN SAND
The original Michelle Liberty fabric is a 1930s floral developed from a design in the Liberty archive dating from 1933. It was created by D.S., the same artist who created the Betsy and Wiltshire  – two other iconic Liberty Fabrics prints.
Our exclusively developed sand colour way is a must-have, new neutral floral, with luxurious, natural hues of taupe, mushroom, sand and peach. We've had it printed on the iconic Tana Lawn™ cotton, as well as extra special silk, both of which will transcend the seasons.
PRINT PAIRING
This pale and interesting Coco & Wolf exclusive perfectly complements soft shades for a luxuriously neutral collection. We particularly love Michelle in sand with Mortimer in pink and Capel in grey, but if you'd like more advice please do visit our Fabric page or get in touch - pairing prints is one of our specialities and we're always happy to help. 
We're so incredibly proud to bring these exclusive, recoloured and reworked fabrics to you. Our hope is that Michelle in sand is the new neutral you can't live without. Now all that's left to do is discover the beautiful products we've created in this fabulous floral, and of course, if there's something you'd like to see that we've not already brought to life, let us know!