Forever Favourite Liberty Fabrics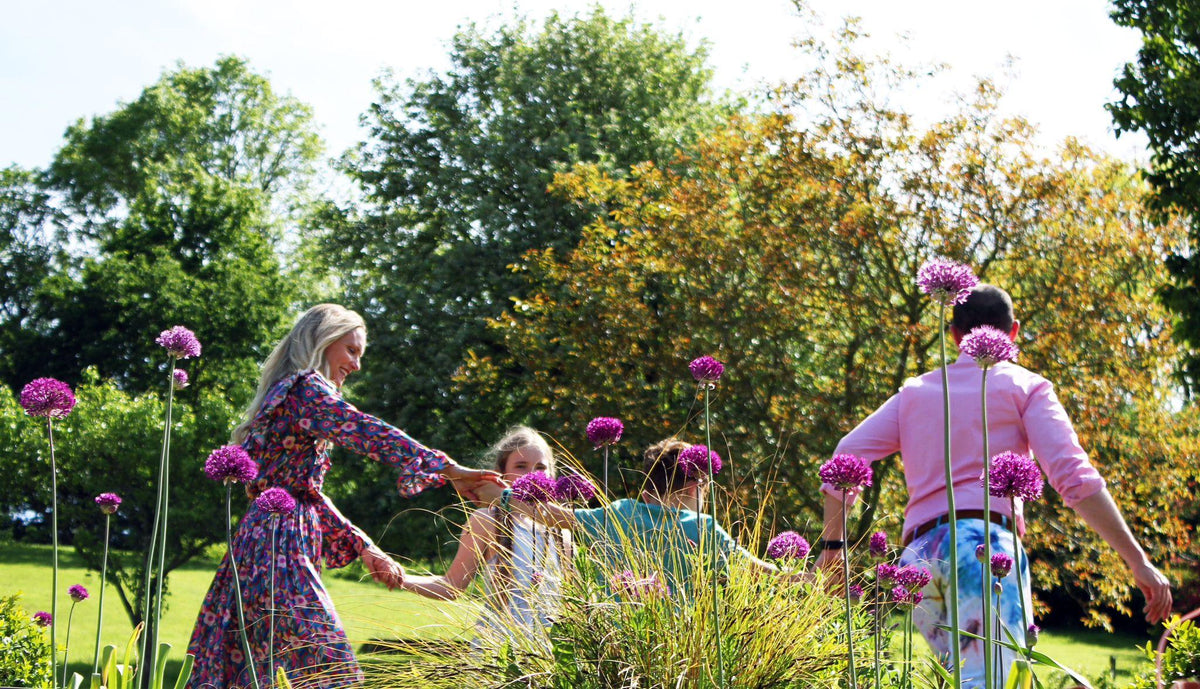 There is a worldwide collective of Liberty fabric lovers for a very good reason - once you discover the lustrous fabrics, there's very little chance of you ever turning your back on them. The prints are impossible to resist and the fabrics are some of the most luxurious in the entire world. They are, to put it simply, perfection, and this perfection is what Coco & Wolf was built upon. Our founder, Amy has championed Liberty fabrics for as long as she can remember and today she is sharing her forever favourites with us. 
First Favourite | Lodden
Lodden has a special place in my heart. It is the very first print I ever bought and the original design by William Morris inspired the start of Coco & Wolf. I love the timeless nature of the print, it never feels dated and pairs beautifully with traditional Liberty florals. For my wedding it was the print which threaded throughout - it worked as beautifully on the men's ties and pocket squares as on the cake ribbon and homemade chutney jar toppers.
Earliest Memories | Betsy
While everyone has their own personal favourite Liberty fabric, you will be hard pushed to find anyone who doesn't like, or love, Betsy. This floral print evokes some of my earliest memories of Liberty fabric so it always feels like a comforting yet beautiful print to work with. Betsy is also one of Liberty's most versatile prints which makes my job all the more fun - every colour you can imagine Betsy in just works! Recolouring and evolving Betsy in Coco & Wolf exclusives such as Candy Floss and Sunflower is something I am incredibly proud of. 
Escapist Joy | Cape Vista
Cape Vista may feel slightly controversial as it from the Atlas of Dreams collection by Liberty Fabrics for Spring Summer 2021 but I absolutely love this playful design on both bedding and clothing. It transports me to summer holidays and sun drenched days with its idyllic coastal scene of palm trees, boats and bougainvillea flowers which is always a joy. Cape Vista fast became a customer favourite too and it isn't hard to see why.
Current Favourite | Thorpe Hill
Working with different fabrics and prints each season means, inevitably, I discover new favourites all the time, but it takes something special for me to declare it a forever favourite. Thorpe Hill from our upcoming Spring Summer 2023 collection is definitely something special. A small-scale version of the much-loved Liberty classic Thorpe, Thorpe Hill was originally created in 1968 and was one of the designs included in Liberty's first ever Classics collection of 1979. While the dense and detailed floral design feels quite grown up, the colours are vibrant, fresh and fun. I adore the scale of the print and how versatile it will be - I can already see it working triumphantly alongside so many other much loved fabrics. 
We would absolutely love it if you shared your forever favourite Liberty fabrics with us too. Tell us in the comments or drop us a line on Instagram! 
Posted on 08 November 2022