Inspiring Interiors: Laura Jackson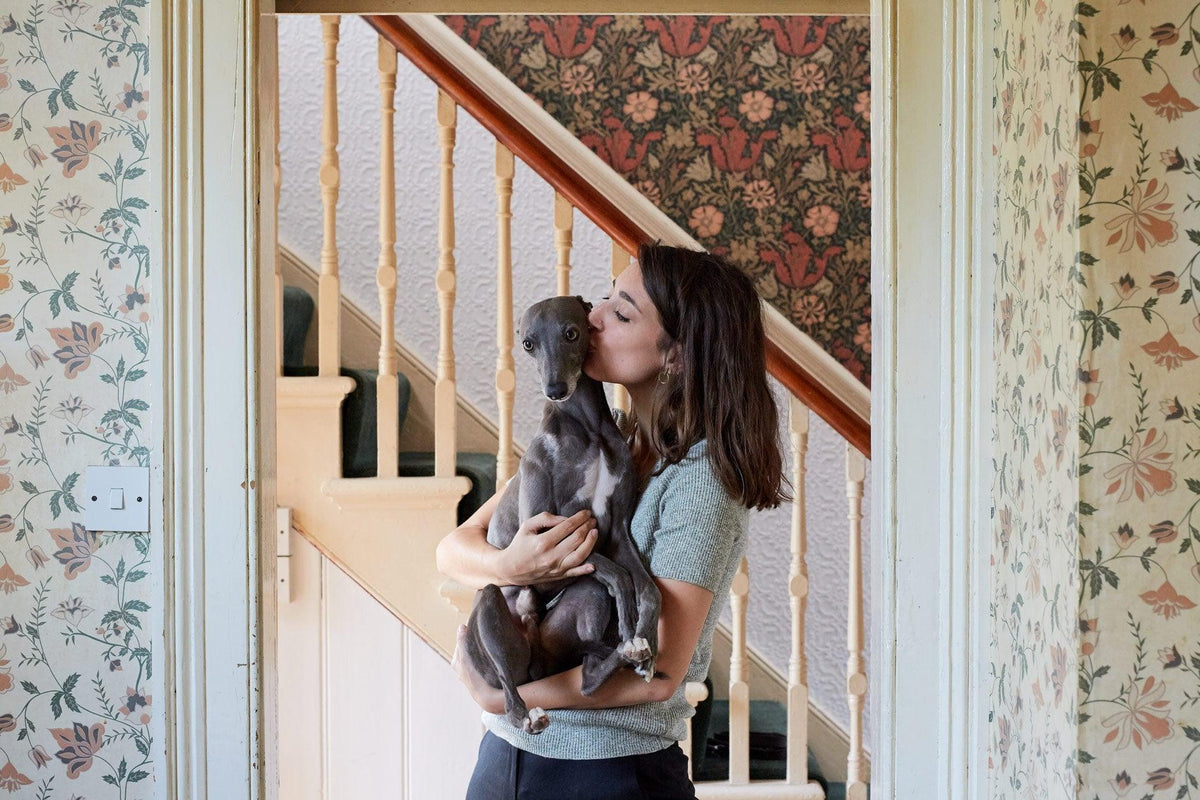 By now I think it's safe to assume we all love a bit of interiors inspiration; we find it not only influences the pieces we create for Coco & Wolf, but our own home styling too. Thankfully, we have a few favourites who we know we can always rely on to spark creativity and inspire. Today, in the second of our Inspiring Interiors series, we chat to Laura Jackson, host of one of our favourite podcasts, "Hoste", and one of our must follows for interior inspo on social media. Homeware designer and supper club co-founder Laura chats to us about curating your home, having the confidence to create spaces you love which aren't necessarily trend led and her go-to store cupboard recipe. 
Who or what inspires your interior style aesthetic?
I love Instagram, magazines, hotels and restaurants for inspiration. I feel constantly inspired by everything, from the colour of a flower to a bedspread in an Airbnb. 

We fell in love with the use of colour and pattern throughout your home. How do you create a harmonious grouping of pattern and avoid visual overload?
It's all so subjective and often what one person loves isn't to another's taste. Go with your gut and create a home you love - if that includes lots of colour and pattern then go for that, if it's more of a neutral space, that's beautiful too. It's your home so it's about making it cosy and lovely for you and your family. 
Your Instagram followers were fully invested in #projectcupboard, when you drove to the Netherlands to search out the perfect vintage cupboard for your kitchen. Are there any other pieces in your home with a real story to tell?
Ha - I know, and can you believe it, I ended up selling the cupboards because they were too big. Everything in our home tells a story, that's what I love. It's about finding interesting pieces that you have curated over time. Whether that was an 11pm eBay win of some chairs or a flea market find, it's about collecting gradually and creating something unique just for you. 
"It's your home so it's about making it cosy and lovely for you and your family."
Your Podcast, "Hoste", celebrates food and bringing the joy back into hosting. In recent weeks our kitchens have become a place of calm, and many have rediscovered the joy of cooking a meal. What is your go-to store cupboard recipe, or favourite thing to cook?
My store cupboard recipe is always beans, I love them jarred, tinned or dried if I remember to soak them! I make rissole like dish but using beans instead of the rice. I cook up whatever veg is left over in the fridge and service with parmesan. It takes about 5 minutes and is delicious. 
Finally, what is your favourite room in your home?
I love the bathroom, it was a real labour of love! It took months to do because we did a lot ourselves and found individual tradesmen rather than using one builder to do everything. We built a round edged Moroccan-inspired Tadelakt shower and bought all vintage sanitary wear. 
I'm not sure anyone has ever made me feel quite so inspired to put beans on my weekly meal plan?! That dish sounds delicious, who else will be cooking it this week? And we couldn't agree more with Laura's ethos about creating a home that you love; it's so easy to get caught up following along with what everyone on Instagram and Pinterest seem to be doing, but actually, having the confidence to create a space which you really love should be high up on all of our agendas. 
Image Credits:
Header image by Cat Garcia for Soho House.
Grid images all from Laura's Instagram.