Intention | New Season Prints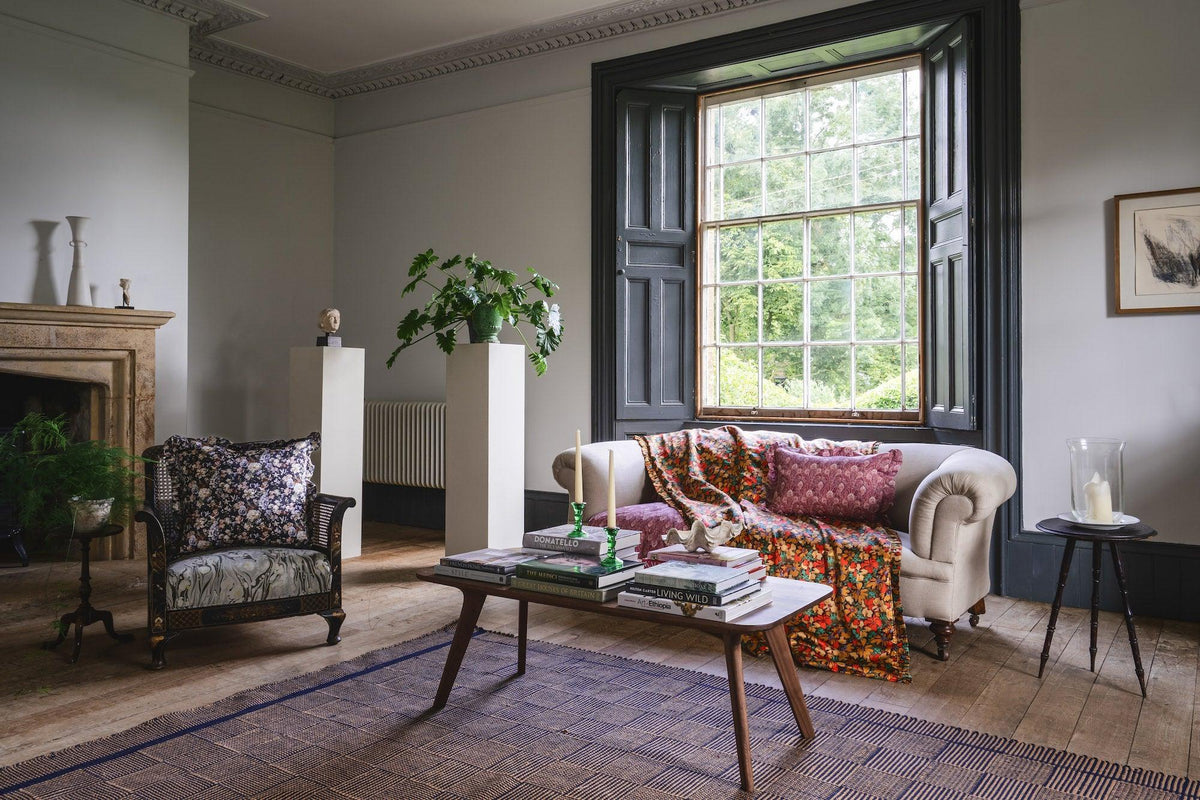 At Coco & Wolf we are firm believers that your personal taste triumphs all trends and our latest collection, Intention, encourages you to create unique spaces, filled with pieces which transcend time and, most importantly, reflect what brings you joy. Intention is a collection full of quietly beautiful elements, with elevated subtleties and luxurious Liberty fabrics. The prints across Liberty's masterpiece Tana Lawn cotton and iconic Silk, have a gentle nod to nature and a modern take on the ancient myths of sea and land; a visual delight of heritage florals, trailing vines and majestic peacock motifs. Within the collection we've given the prints room to breathe and space to ignite your imagination - how you put them together is entirely your own choice.
The most luxurious experience of all is making considered and conscious selections based purely on personal connections. Intention not only allows you to do so, it encourages and celebrates this confidence in your own style. We cannot wait to see how our creative customers take these prints and let them sing in their beautiful homes. 
Intention | New Season Prints
Aisha
Originally created as a Liberty furnishing fabric during the 1920s or '30s, Aisha has been carefully redrawn in Liberty's London studio to retain the fine outlines of its delicate flowers. Pretty fuchsias appear like tiny pendants, strewn across trailing vines of pinks and clematis.
Annabella
Annabella is a classic 1930s floral print, redrawn from a tiny fabric swatch into an all-over pattern of mixed flowers. It was originally designed by the Silver Studio – the iconic textile design house that has worked for Liberty since soon after their founding by Arthur Silver in the late 1890s.
Ava
The original Liberty design for Ava dates back to the early 1930s. A very crisp and fine outline surrounds the simplified flower shapes, while the all over composition is a typical example of a classic Liberty botanical. Carefully redrawn in the Liberty design studio, this pretty heritage print has been recoloured in beautiful heritage hues.
Donna Leigh
Donna Leigh was inspired by a design by William Kilburn dating from the late 1700s. During this period Kilburn produced many designs for muslin, often with dark, rich grounds and contrasting flowers – this print reflects his signature aesthetic, with its hand-painted watercolour flowers on a dark ground.
Dreams of Summer
Painted in oils in the Liberty Fabrics studio in an Impressionistic style, Dreams of Summer is a magnificent display of high summer flowers, full of depth and texture. Blooming daisies, primroses, cornflowers, daffodils and forget-me-nots create a vibrant, multi-layered wild meadow.
Emma Louise
Emma Louise is based on a Liberty print created in the early 1900s. A pretty floral arranged as a dense allover repeat, it is made up of a variety of small stylised flowers including roses, buttercups, forget-me-nots, and anemones.
Feather Meadow
Carefree and peaceful, the Feather Meadow print evokes the swirled movement of leaves and flowers dancing on a soft breeze. This allover print is reminiscent of 1930s style Classic Liberty designs.
Floral Fable
Floral Fable was based on an archival Liberty artwork from the 1930s, showcasing a majestic display of botanical splendour. It emulates the beauty and diversity of flower forms with its richly-hued tapestry of bluebells, poppies, marguerites, and wallflowers – each painted as if illuminated from within, and set against darker-coloured grounds for dramatic effect.
Libby
Libby is a layout of dense, simplified daisies, drawn with a very fine outline. Originally hand painted during the 1930s and printed at Liberty's Merton print works, this all-over repeat pattern pays homage to the most quintessential Liberty floral style.
Margaret Annie
Margaret Annie was hand-drawn in-house by the Liberty Fabrics team, featuring a detailed layout of summer perennials. It joined the Classics collection in 2013.
Mitsi
Mitsi was designed by Gillian Farr, a member of the Liberty Fabrics studio in the 1950s. It pays homage to Liberty's historic love for Japanese design motifs, featuring delicate cherry blossom.
Myrtle
This trail of fluffy myrtle flowers is characterised by its sense of elegance and simplicity. Inspired by an archival Liberty artwork and reimagined to represent the story of Aphrodite, the Greek goddess of love, Myrtle is versatile and timeless. 
Peacock Place
Peacock Place was drawn from a 1970s paper impression discovered within the Liberty archive. Framed by elegant ogee trails and arranged in a symmetrical layout, its scrolling foliage and stylised organic forms are typical of the Arts and Crafts period. This design represents the story of Hera, queen of the gods – her symbol of the peacock is reflected in the spread of majestically fan-tailed flower petals. 
Queen Hera
Named after the Greek goddess whose sacred animal was the peacock, Hera is a true heritage icon of Liberty Fabrics and has adorned Liberty designs ever since the mid-1890s.
Strawberry Thief
A perennial Liberty favourite since 1979, this classic Arts and Crafts design was originally created by William Morris in 1883. Liberty Fabrics first produced Strawberry Thief as a furnishing fabric in 1979 and it has since been redrawn for Tana Lawn on a smaller scale. 
Vine Thief
This design represents Dionysus, the Greek god of fruitfulness and wine, through his symbol of the grapevine – in his role as a nature god, he is connected to the bounty of the harvest. Redrawn from a design discovered in the Liberty archive, this Arts and Crafts style layout features tiny stylised florals, garden birds and an abundance of trailing grapes and vines – a traditional Liberty design, brimming with detail and charm.
Wiltshire Bud
Wiltshire Bud is a new, smaller-scale interpretation of Liberty's much-loved classic Wiltshire print, featuring a small, all-over leaf and berry pattern. 
Intention | New Season Silks
Alison Lewis
Originally created by the Liberty studio in 1968, this loosely painted botanical showcases a dense arrangement of fluid floral shapes, almost morphing into a camouflage pattern. Capturing a fleeting moment of underwater florals through loose brushstrokes, Alison Lewis overflows with emphatic forms and subtle movement.
Eva Belle
Eva Belle is inspired by a design from the Liberty London archive, originally created between the 1910s and 1930s in Jacobean needlework style. A Tree of Life arrangement, it features stylised florals with winding leaves and intricately shaded petals in soft jewel-tone colourways.
Garden of Adonis
This bold and graphic floral depicts the festival of Adonis, the mortal lover of the goddess Aphrodite in Greek mythology – every year at midsummer women would plant 'Gardens of Adonis' with vases of fast-growing plants, to celebrate the beautiful young man's life. The layout of the vase is loosely based on an archival Liberty design, incorporating stylised plants such as anemones (a symbol of Adonis), marigolds, petunias and peonies. The design's undulating stalks create a sense of movement and dynamism. 
Great Missenden
Great Missenden is based on an archival paisley design dating from the 1980s, which in turn drew on elements from several mid-nineteenth century shawl patterns. Named after the Buckinghamshire village where Liberty's founder Arthur Liberty had his country home, it is a quintessential paisley complete with intricately flourishing frills and fronds.
Icarus Wings
A larger scale version of Icarus, the wing-like shapes of this immersive pattern almost seem to rise and unfold in unison, creating a complex choreography of form. Referencing the classical myth of Icarus, the design was derived from an archival Liberty piece from the late 1980s, with each element meticulously redrawn to retain the intricate linework of the original. 
Juno Feather
Juno Feather draws inspiration from Liberty's iconic Hera print – the Liberty design team used a small 19th century painting found in the archive, repainting a peacock feather in gouache into an intricate new multi-coloured arrangement.
Medusa
Inspired by the ancient Greek myth of Medusa, this mesmerising botanical paisley incorporates intricate seaweed-like foliage alongside fantastical flowers and cascading fronds. Drawn from a Liberty furnishing fabric created in the 1970s, this reimagining brings to life a mysterious concoction of flora and fauna. Look closely to discover trails of Medusa's legendary snake-like hair, writhing through the verdant jungle.
Montague Mews
Abundant with vividly opulent blooms, Montague Mews is a visual feast of floral grandeur. Inspired by a hand-painted artwork discovered in the Liberty archive, this magnificently detailed botanical combines classical realism with rich colour contrasts. Hydrangeas, larkspur, wild roses, irises and lilies showcase meticulous artistic skill expressed through light, depth, and nature's exquisite forms.
Prospect Road
Prospect Road is an archival classic, based on a Liberty design from 1968. A revival of traditional Art Nouveau landscape prints, it features subtly arranged clusters of trees in a dreamy, jewel-toned setting.
Sea Salt
 Sea Salt draws inspiration from the ferocity of sea spray, as waves break and crash thunderously against the shore. Created in Liberty's London studio by melting shavings of wax coloured crayons, its textural pattern offers a modern take on Liberty's beloved Pepper design. 
Posted on 06 October 2023