Nurturing Creativity with Rebecca of The Garden Gate Flower Company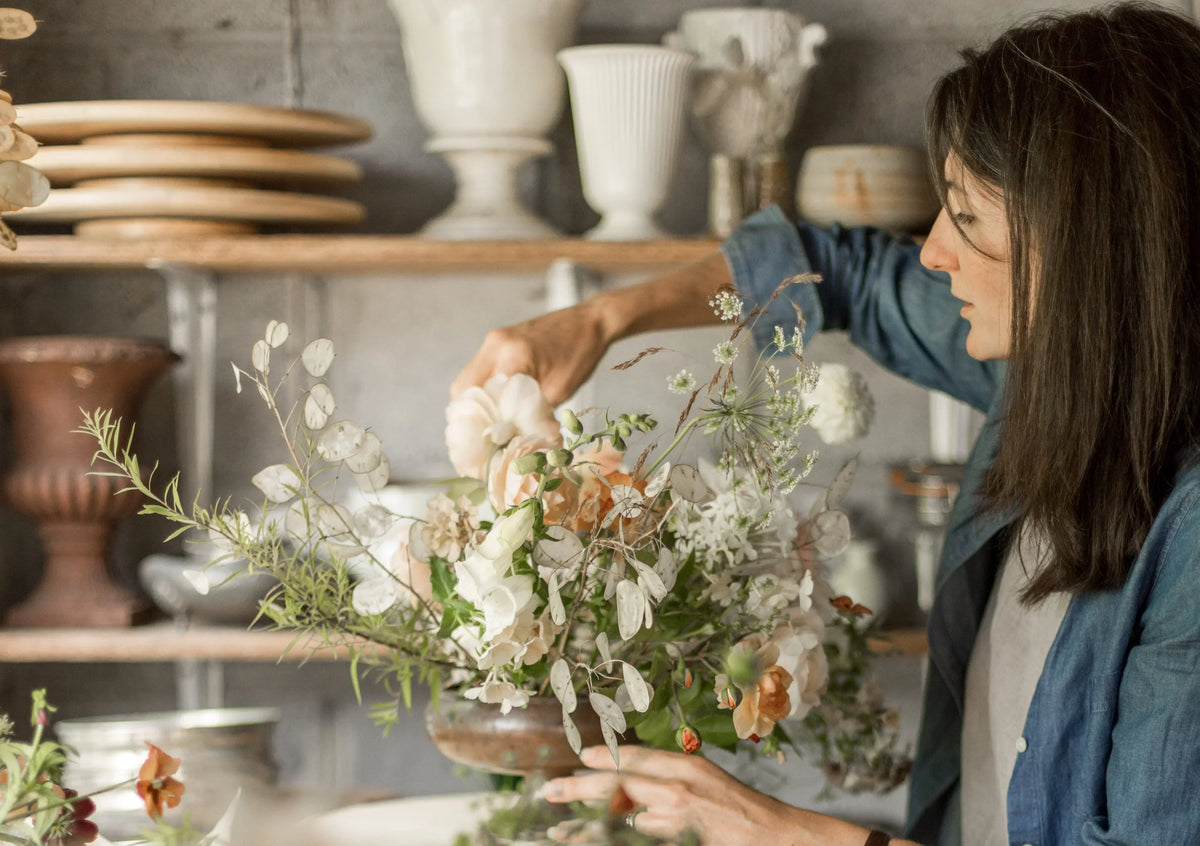 As Coco & Wolf heralds from the South West, naturally this little corner of the country has an incredibly special place in our heart. It is home to some of the best creatives in the world and as a team we take so much inspiration from this. One creative bringing endless floral joy to the Cornish creative scene is Rebecca Stuart, Creative Director of The Garden Gate Flower Company. Celebrating it's tenth birthday this year, the company has grown very organically, much like Rebecca's flowers. Starting out as a cutting garden created from a handful of seed packets, it is now a sustainable, environmentally conscious garden and floral design studio providing stunning, seasonal wedding flowers for couples all over the South West. Today Rebecca talks us through how she nurtures the creativity which shines through in all of her incredible floral creations as well as life away from the workbench filled with flowers. 

You are lucky enough to be based in Cornwall, on the beautiful South West English coast. Do you get most of your inspiration from your surroundings? 
For me, Cornwall is brimming with inspiration not only from land to sea but also from other creatives working within this beautiful county. I love spending time on the moors where your gaze feels limitless but I also take such inspiration from the little coves on the south coast that are hugged and hidden from footpaths. Often it is the light in Cornwall that takes your breath away and, for me, watching on a sunset on the North Cornish Coast is an essential Summer activity to keep inspiration alive.
The Garden Gate Flower Company is an iconic part of the Cornish wedding scene, but your creativity has meant the business has grown to be so much more than this. Tell us about the evolution.
Over the years the Garden Gate has grown to be more than just a wedding business. It has taught a huge number of floral designers in the UK and from abroad to embrace seasonality, reduce the need for floral foam and consider their own creations as artistic installation pieces.   
Styling has also always been at the root of The Garden Gate Flower Company and the pandemic has allowed me to explore this creativity and styling further and I am delighted to now be working with some exciting brands, creating online content for their marketing campaigns. I really love working with start-up brands helping them create new content and watching their creative journey evolve.
We believe that creativity has to be nurtured, giving it space to take on different guises. How do you nurture your creativity?
For me it is about being led by my inspiration in that moment. It might come from a piece of fabric I see, a flower bed that is planted in layers or a beautiful painting. Being able to carve out time for my own creativity is something I have always put high up on my priority list each season. Each week I try to create something that has no agenda and see what colour combinations come from not having set rules or requirements. Often it is in these moments that lead me to plan new varieties to grow for the following year.  
You spend much of your time surrounded by stunning florals - have you got a particular favourite you often dot around your home, or are you like us, and change depending on the time of year?
This is one of the most popular questions I get asked and it is the trickiest to answer! As a gardener I follow the seasons so each season I have got my eye on something in the garden. In spring it is often a snakes head fritillary, with its  checker board like markings. In summer the roses appear and it is impossible to keep your nose out of them. Foliage is often what stops me in my tracks come Autumn, especially maple and its vast, incredible colours. Displaying single varieties around the kitchen sink and on the dining table is my favourite way of enjoying the special jewels from the garden and I suppose one day I would love for my kids to talk about the bottles of flowers I had everywhere.
Is your creativity limited to your gardening and floristry, or are you creative outside of this?
Being a self-employed gardener and florist you never really feel like you have a day off as such as there is always something that needs your attention in the garden. Rather than fighting that feeling of doing something outside of work I try and bring something new into my work. I have found this works better for someone who never really stops! So, for me it is often photography that creeps in and I enjoy expanding my subject beyond the garden. The kids often moan…. "no more photos mum!".
Our workspace serves many different purposes and can look glorious sometimes and a complete mess at other times, but either way, it is a great place to exercise our creativity. What does your workspace look like?
This makes me chuckle as I would love to have a proper workspace with a lovely desk and pretty pictures but in reality, gardening and floral design doesn't quite work like this. My workspace one minute is a raised bed full of weeds to tackle and the next it could be a row of roses that need feeding or it's my workbench in an old garage that is filled with flowers ready to find their place into vessel. The admin work however is on my kitchen table. I dream of one day having a little office in the garden that can become my creative escape.
Working with Liberty fabrics means we are maximalists at heart but we also believe minimalism can really allow our prints and product to sing. Are you a minimalist or a maximalist?
With a small house and two growing boys I dream of being a minimalist! Space and no clutter what a dream! When creating flowers though sometimes those big full arrangements are what you need and totally fit the space which you are creating for. However, the majority of my designs are about giving space to each flower and in turn allowing the eye to travel around the arrangement in a flowing journey. Therefore, less can certainly be more in my book!
Creative people are often imaginative and curious. Where does your mind most often wander?
My mind is often on travel. For years I have loved to travel and lived in both New Zealand and Australia in my 20s. Visiting new places, new architecture and new anything I find really exciting. I dream of one day having a house in the south of France with a beautiful, large garden... my mind gives this a lot of energy right now! Maybe that is lockdown for you?!
Discussing how Rebecca lives a creative life caused a broad smile to creep across my face so many times throughout, not least when she mentioned disgruntled children at yet another photograph! Are you too longing for a creative space to work at the bottom of the garden? It's a dream shared by many after such a funny old year of making our homes our workplaces. I absolutely loved Rebecca's idea to bring different creative elements into work instead of finding time outside. What a refreshing way to think about it! If you'd like to follow more of Rebecca's creative floral adventures do follow along on Instagram, the organic floral designs will be right at home in your feed.