Seasonal Eating | Somerset Cider & Cheddar Soup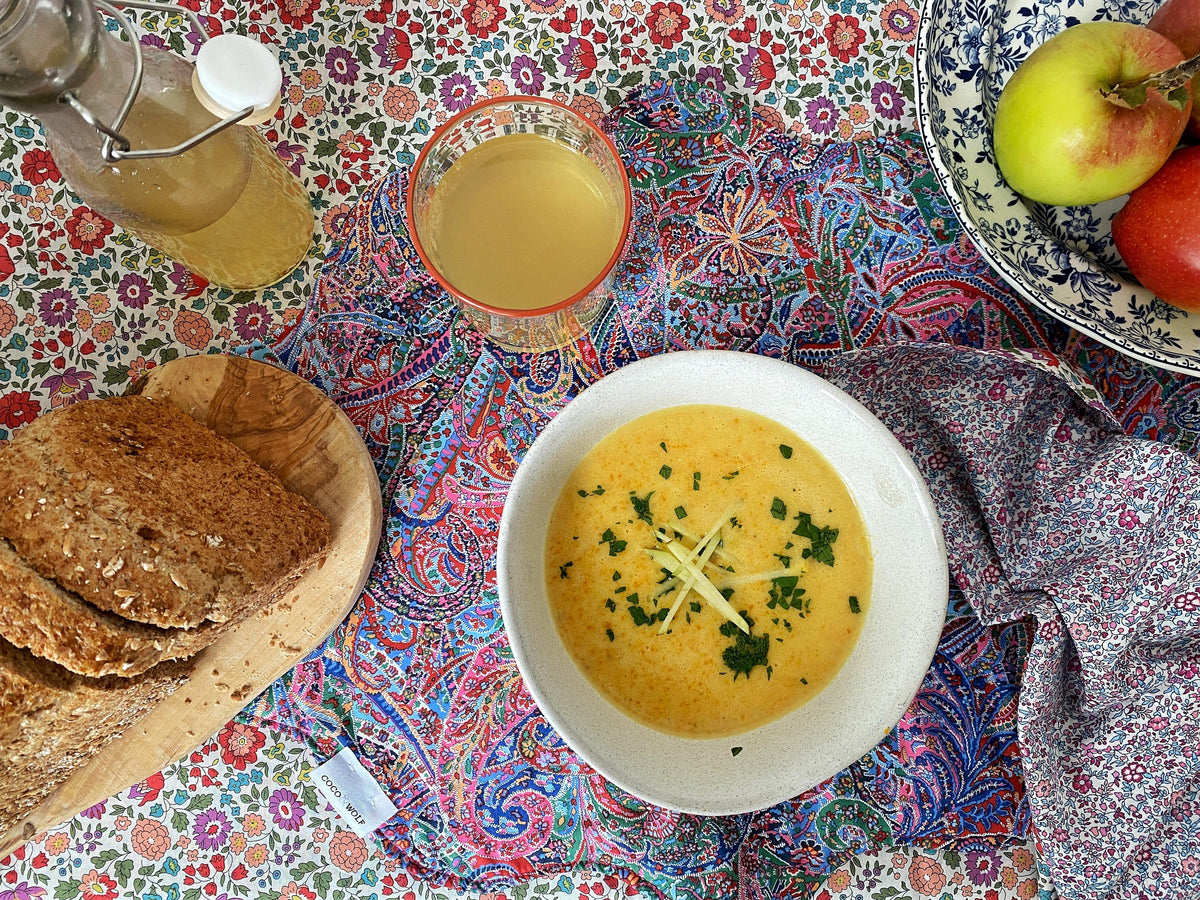 As the air chills and November appears, we often seek out warmth and light wherever we can find it, especially now the clocks have fallen back. For many, warmth comes from the hearty meals which feel synonymous with the latter part of autumn. Despite the diminishing warmth, November is a bountiful month for ingredients which makes seasonal eating a breeze. One of our favourite meals to make and eat at this time of year is soup and today we're sharing one of our favourite seasonal recipes - Somerset Cider & Cheddar soup. It's a true celebration of our home county's beautiful produce and while this isn't an everyday recipe due to it's rich, velvety and decadent nature, it is a delicious treat for chilly evenings like bonfire night!
Seasonal Eating | Somerset Cider & Cheddar Soup
Serves 4 however please note, this recipe is incredibly easy to scale up if you're making it for a crowd. 
Cooking time: 30 minutes
Somerset Cider & Cheddar Soup 

Ingredients


15g butter

A glug of olive oil

1 medium onion - finely chopped

1 medium carrot - finely chopped

1/2 stick of celery - finely chopped

3g plain flour

200ml whole milk

200ml good quality vegetable stock

175ml Somerset cloudy cider

1/2 tsp dijon mustard

200g Somerset cheddar

1 apple

A small handful of parsley - finely chopped

 
Somerset Cider & Cheddar Soup 
Instructions
Warm the butter and oil in a deep cast iron enamel pan over a medium heat. Add the onions and cook for about 6 minutes until soft and translucent before adding the finely chopped carrot and celery. Continue cooking for ten minutes, stirring occasionally, until tender.
Warm the milk in a saucepan and set to one side. Once your vegetables are softened add the flour and continue cooking for another couple of minutes before adding the milk gradually to make a thick sauce. Pour in the cider and stock and give the whole thing a really good mix before bringing it to the boil. Turn down the heat and let your soup base simmer for 4 minutes. Stir in your mustard along with some freshly ground black pepper. 
At this point, if you like a very smooth soup, blitz the entire mix with a stick blender - take care as the soup will be very hot! If you prefer your soup with a little more texture, skip the blitzing.
Grate the Somerset cheddar and stir into the soup, leaving it to simmer for a further five minutes until the soup has thickened. While your soup thickens, chop your parsley and grate your apple (if you want your soup to look a little more refined you can cut into matchsticks). Serve in warm bowls or mugs and top with the parsley and apple. Don't be tempted to skip the apple - it really is the perfect finishing touch which cuts through the richness. 
We'll be serving our Somerset Cider and Cheddar soup in enamel mugs alongside hunks of bread this bonfire night before traditional sweet treats like Parkin and toffee apples make an appearance. However, it also works wonderfully when dining with friends. Gather them around a beautifully dressed table and delight them in this decadent starter. Do let us know if you make this Somerset celebration soup - we'd love to know what you think. 
Posted on 02 November 2022