Summer Ready Bedrooms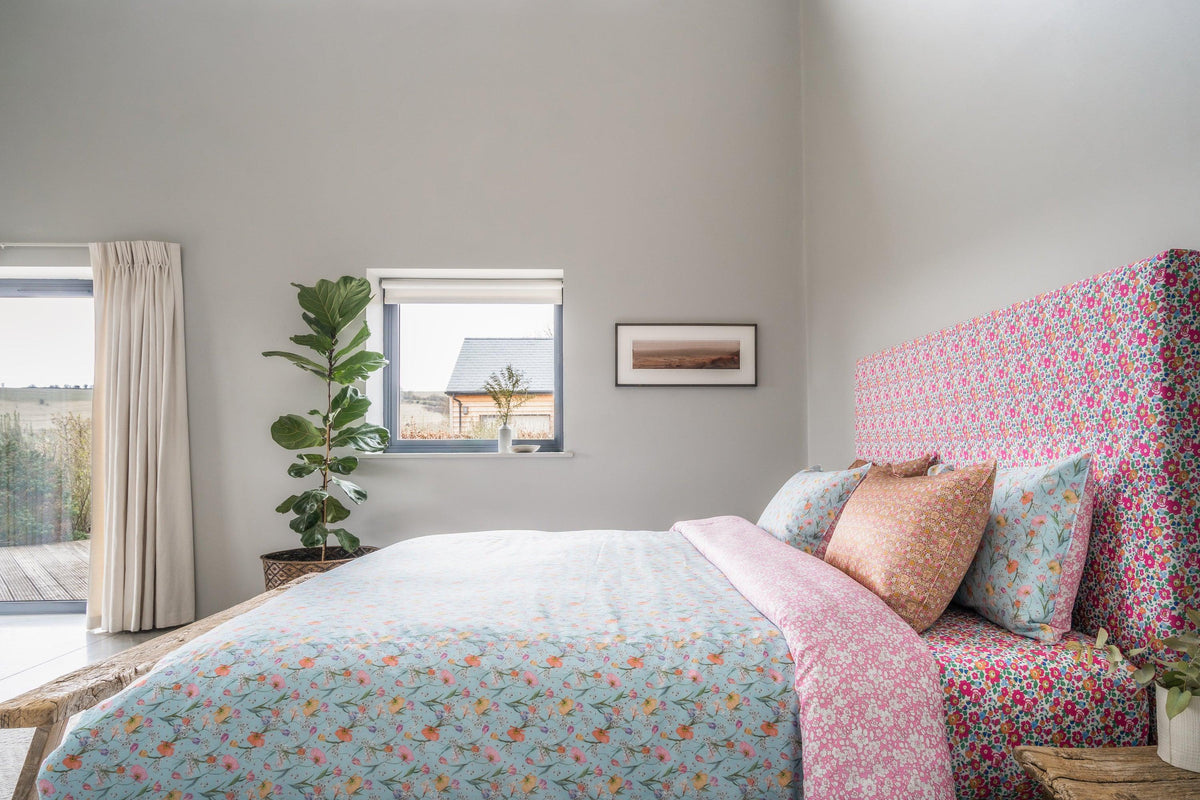 Hasn't it been so delightful to finally feel the sun on our faces once more? And looking at the forecast, summer may have arrived! Just as our sartorial choices reflect the season, with knitwear swapped out in favour of floral dresses and light blouses, our homes should too. One of our favourite rooms to get summer ready is the bedroom - we're not encouraging a full overhaul, just some intentional, seasonally appropriate changes to ensure you wake up happy all summer long. Think cool-to-the-touch bedding, sanctuary like spaces and charming cushions for comfortable sunshine basking.
Summer Ready Bedrooms: The Bedding
In Summer, especially in Britain with its ever-changing temperatures, it's often hard to get your bedding right. On hot nights you're too hot and then when the temperature dips slightly you're seeking out extra layers. Sound familiar? The chances are, you've not yet met our Liberty fabric bedding. Made with Tana Lawn Cotton, one of the most revered fabrics in the world, Coco & Wolf's luxurious bed linen is silk-like to touch, fine, cool and comfortable with a breathable construction, keeping your temperature regulated all night long. It looks beautiful too thanks to the lustrous prints and beautiful clarity of colour. This summer is definitely the time to ditch the poly-cotton bedding you've been frustrated with for too long. 
Coco & Wolf's Liberty fabric bedding is available in duvet covers, pillowcases and fitted sheets, as well as flat sheets for really hot nights when you get rid of the duvet or comforter altogether. And despite being summer, there will be evenings with a slight chill, so don't be too quick to pack away all the layers. Keep a quilt or blanket close to hand.
Summer Ready Bedrooms: The Aesthetic
While we are past the traditional season of spring cleaning, there's no time like the present for having a declutter. Summer ready bedrooms feel all the more sanctuary-like once they are clear and serene. Try and keep bedside tables clear except for your bedtime reading and a posy of flowers or a relaxing scented candle for the hay fever sufferers amongst us. 
Liberty florals lend themselves particularly well to summer, reflecting the abundance in nature right now. When choosing the prints, consider the aesthetic you want to achieve. If you want cheery charm choose brighter colours and fun, conversational prints, while the more pale and interesting fabrics lend themselves incredibly well to tranquil, cool and collected spaces.
Summer Ready Bedrooms: Cushions
One of the easiest season refreshers is to update your cushions. Introducing new colours or prints to a space is an instant refresh at a fraction of the price of updating all of your bedding or curtains, for example. For a fanciful summer bedroom we love adding ruffles and patchworks in zesty yellows, playful pinks and verdant greens.
Other Summer Ready Bedroom Updates
If you have thick woollen rugs, it's a great time to (temporarily) replace them with jute, or even leave floorboards bare for barefoot holiday vibes. 
There's no better time for silk nightwear than summer, though try and stop us the rest of the year. Our Liberty silk camisole tops, shorts, kimonos and pyjamas feel wonderful against the skin, offering the most luxurious way to stay in your comfort zone. Elegant, stylish and cool to the touch you won't want to wear anything else. 
While the thought of a dressing table posy of garden roses and peonies is beyond pretty I'm sneezing just thinking of it. Instead, try adding a green plant to boost your mood, reduce stress and naturally filter air pollutants this summer.  
Finally, during the day let the sunshine flood your home, bringing with it the ever-important vitamin D. However, for restful nights (and early mornings) make sure you can block unwanted light for a naturally regulated circadian rhythm. We favour shutters, but black out blinds or curtains in breathable fabrics also work really well.
Are you going to be making any seasonal changes to rooms in your home? Getting your bedroom summer ready this weekend, perhaps? We'd love to see the changes you make - please do share them with us over on Instagram.