Summer Tipple Recipe: Peach Thyme Spritz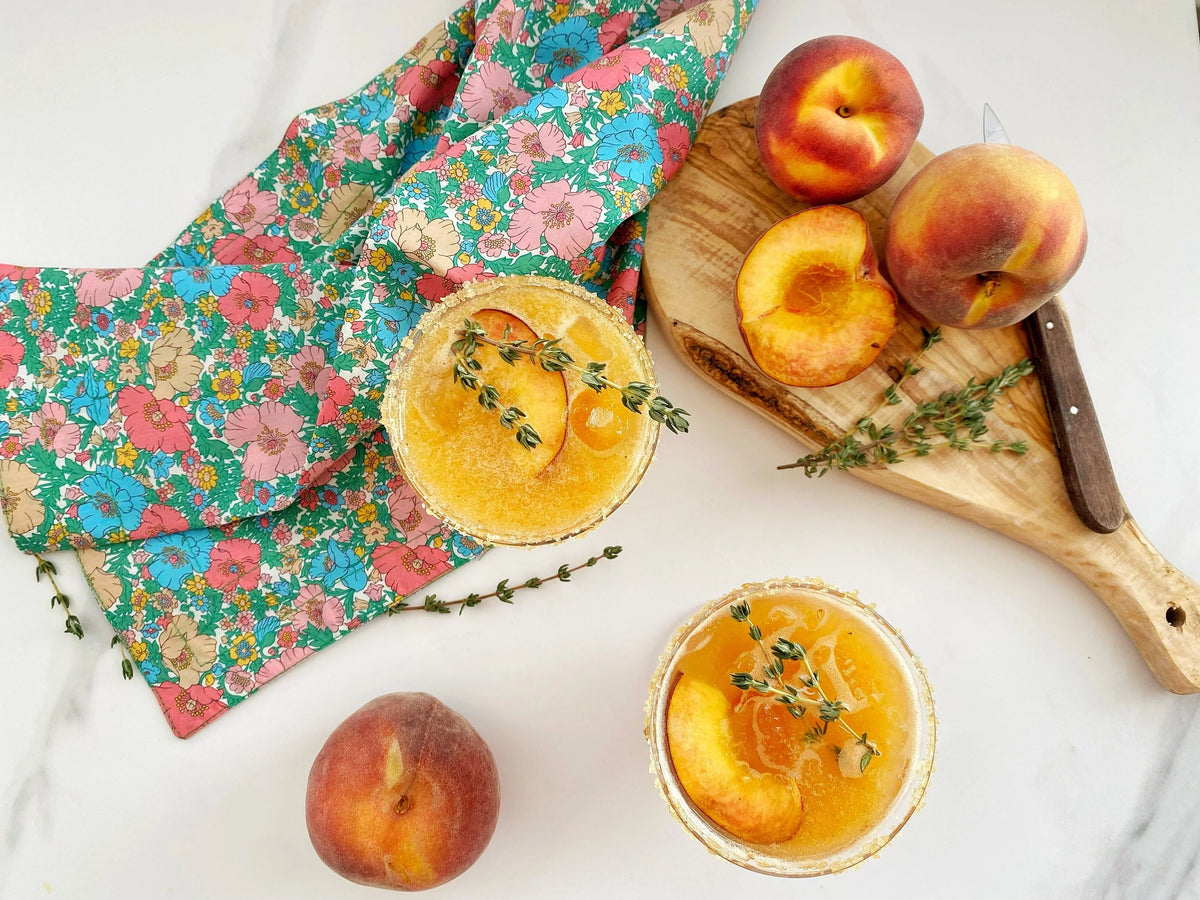 Nothing quite says summer like some fabulously fruity tipples enjoyed under the early evening sun with friends. Whether you prefer something with a boozy kick or like to go alcohol-free but big on flavour we've got the ultimate summer delight - a Peach Thyme Spritz. Just add your favourite people and a playlist brimful of laid back tunes from Leon Bridges, Lianne Le Havas and Bonobo. 
Our peach thyme spritz's puree base is prepared the day before (though rest assured, is not in the least labour intensive) and so works fabulously regardless of whether you're hosting or want to take something a little boujie to a friend's BBQ. It travels well in a mason jar with some thyme sprigs tied to the side ready to adorn the finished cocktail.
Peach Thyme Puree Ingredients
460g peaches, chopped
150g honey
6 sprigs fresh thyme
Peach Thyme Puree Instructions
Add all of your ingredients to a heavy-based saucepan and bring to a bubble on a high heat. Once bubbling, turn down the heat so the mix simmers for around 20 minutes. Stir occasionally so the mix doesn't stick. Once the peaches are breaking down turn the heat off and let the mixture cool before blitzing everything together in a blender with a couple of teaspoons of water. I use a Nutribullet which handles the puree with ease. 
Peach Thyme Spritz Ingredients
60g peach thyme puree
1 shot white rum (optional)
1 tsp demerara sugar
Soda water for an alcohol free spritz
Prosecco for a boozy spritz
Fresh peace slice and thyme sprig to garnish
Peach Thyme Spritz Instructions
Wet the rim of your chosen glass before dipping it in the Demerara sugar. Add in the peach thyme puree followed by the white rum if using. Stir together with a spoon before adding plenty of ice to your glass. Top up with soda water or Prosecco, whichever you fancy - both are delicious! Garnish with a fresh peach slice and a sprig of thyme. 
Will you be adding this fruity cocktail to your must-make list? We'd love to see the results if you do! The puree is also delicious added to greek yoghurt and granola for a breakfast treat, if you have any left over.