A Temporary Pause on Maximalism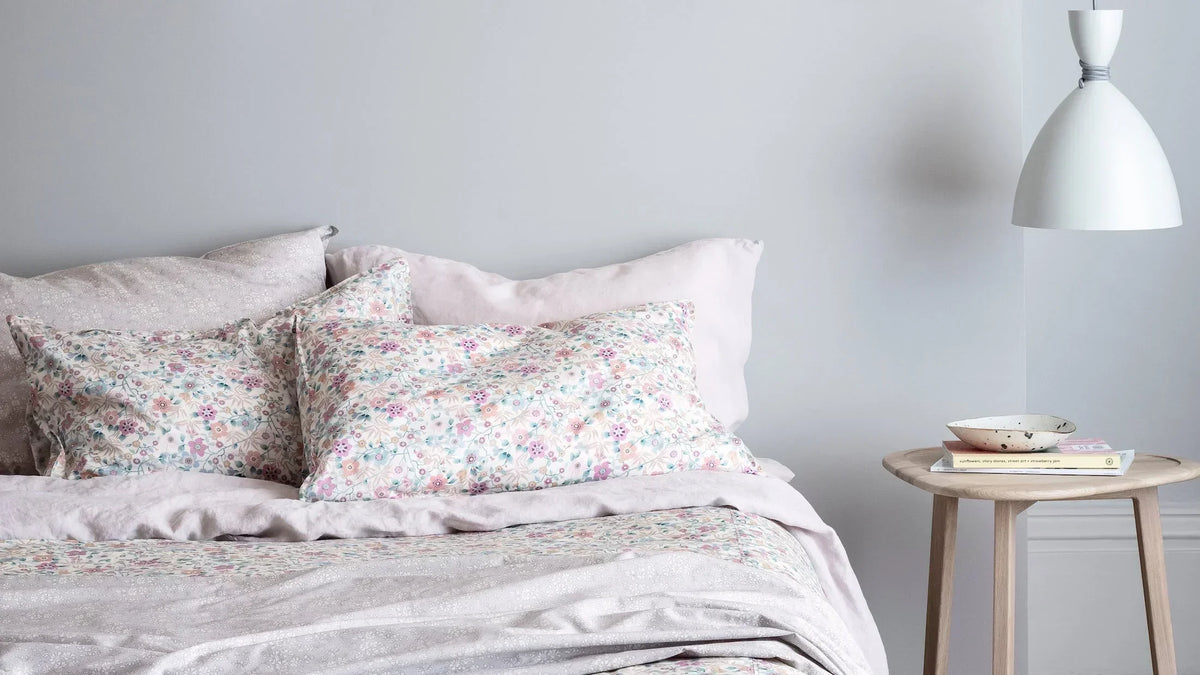 As we enter a new year it's hard to resist the excitement and lure of new beginnings and a clean slate. Last year we spoke about a resolution revolution and this year we're bringing the conversation back to our homes and thinking about how January is a great time to have a shake up there, too.
The festive season is a maximalist's dream. In fact, I'd argue that Christmas is often maximalism and then some. More sparkle. More lights. More paper snowflakes and more trinket dishes of Quality Street. All of which is completely joyful until the end of December when if you're anything like me you start getting a tad twitchy. Come the new year I'm ready for clear surfaces, less layering and a little more serene. A gentle, albeit temporary recovery from the sensory overload of Christmas at a time when we all spend more time at home. 
Now we are absolutely not advocating getting rid of things unnecessarily. Most of the things you fill your home with you've done so because they bring you joy and we champion that. However, if you too are hankering after simplicity at home as you navigate midwinter then why not try a January home detox? Each new year, once the decorations are packed away rather than putting everything back exactly as it was before, I keep things a smidgeon more simple. Trinkets, vases, excess photos, even busy cushion covers and some books are packed away into a box which I keep just inside our loft hatch so it's easily accessible. Over the next couple of months as I find myself missing something, or an area of the home needing a little decorative touch, items are gotten back out in a considered way, creating a new curation of things which are already much loved. 
Maximalism is almost always restored, but at a time when it feels less overwhelming and it's a balance which I have come to adore. The process means gently easing into the new year with a sense of calm and new beginnings in the home while a few weeks later there's a beautiful joy and gratitude which comes from rediscovering items not seen for a while. Plus, the items which do stay out from the very beginning a given a chance to shine, which of course they all deserve. 
Some ideas for a temporary pause on maximalism at home
We already know you adore Liberty fabric bedding and don't worry - it's going no where! I keep Coco & Wolf Liberty print sheets layered up with crisp white bedding for the first couple of bed changes of the year, so the beauty is still there but there's just a touch less layering and a tiny yet always appreciated jot of joy every time you pull back the duvet. 
Glass fronted cabinets are the perfect home for curated collections but to temporarily escape the busy-ness line the glass with wallpaper or fabric.
A new scent can work wonders at calming and restoring - try jasmine, rosemary, bergamot or geranium in your diffusers to bring a new energy to your space. 
Intersperse your favourite Liberty cushions with plain linens and cotton for a tranquil balance. Once you're feeling a little more bright eyed and bushy tailed get the Coco & Wolf cushions back out, whether that's reinstating maximalism on your sofa or popping them around the home in new spots. 
Do you fancy trying a January home detox? Give yourself and your home a temporary pause from maximalism and gentle align with a new beginning and a new year. We'd love to know the results!
Posted on 02 January 2022