An Ode to Cushions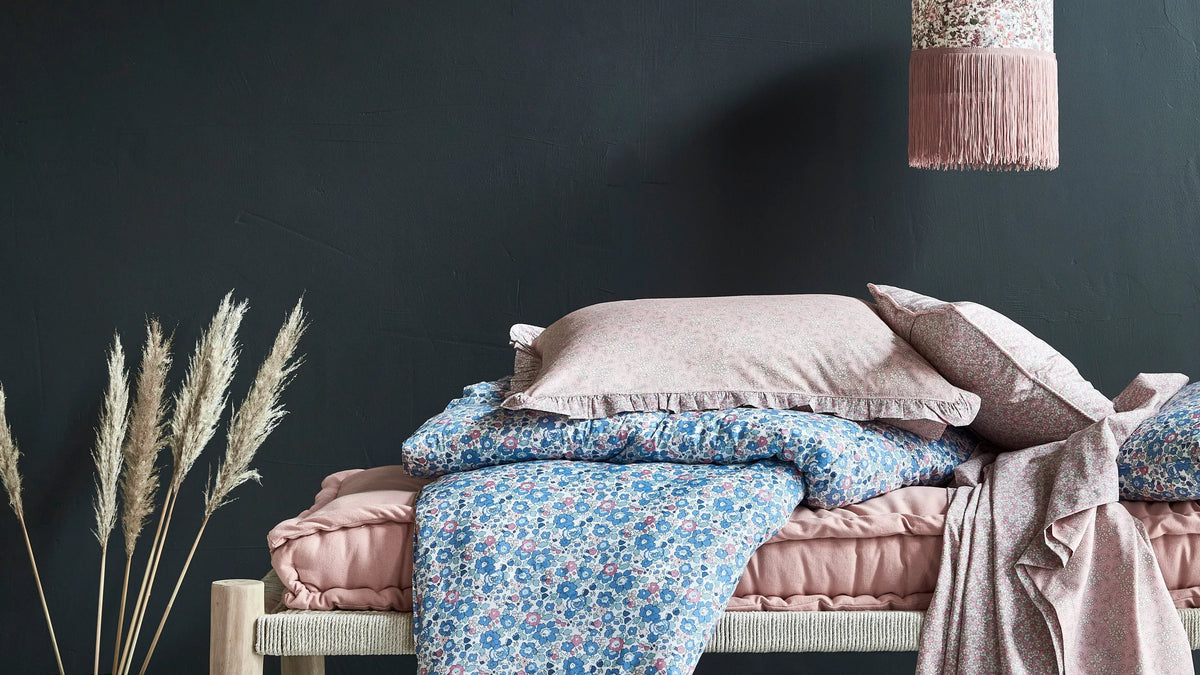 With autumn now officially here, our minds turn to creating pockets of cosy softness in our homes and one of our favourite ways to do that is with layers of sumptuous textiles. It's simply impossible to talk about cosy layering without mentioning cushions and their ability to entirely change the look and feel of a room means they're fully deserving of today's ode. 
CUSHIONS IN LIVING SPACES
Making living spaces feel seasonal naturally means maximum comfort. On autumnal, chilly evenings you want to feel enveloped in warmth and softness and layers of different textures and tones is key to that. Our gorgeous Liberty fabric cushions, whether it's ruffle edged or oblong bolster, are the perfect starting point. 
In terms of pairing prints, you'll know by now that we're maximalists at heart so encourage you to consider mixing and matching print groupings across Silk and Tana Lawn Cotton to create an eclectic, maximalist feel on your super soft sofa. If that is a little outside your comfort zone, instead mix a couple of similarly toned prints with some neutral stapes and let those Liberty fabrics sing. Alternatively, our piped edge options in particular work incredibly well in more pared back schemes. 
Whether you go for odd or even numbers within your cushion collections is, of course, personal choice, but you can really tailor your numbers to your desired aesthetic and feel. When adding cushions to a more formal space you may want to use even numbers and symmetry to create uniformity, while odd numbers create a more obviously relaxed look, perfect for informal, family spaces. If you would like to use even numbers but avoid appearing too uniform and regimented use a variety of shapes and sizes for unexpected interest. Groupings of cushions needn't be overanalysed - again, this is purely a matter of personal choice. 
CUSHIONS IN BEDROOMS
Your bedroom should always feel relaxing and harmonious and really let comfort triumph. Cushions, blankets and quilts boost the level of snug in our bedrooms and after all, doesn't everyone want a bed you can barely resist collapsing into? Adding beautiful Liberty fabric cushions will have you imagining leaning back into them whilst reading a book or resting your head on them at the end of a busy day. 
In bedrooms you want to use enough variety of sizes, shapes and prints to keep the eye entertained, but combine colours and fabrics in a considered way to stop collections feeling overwhelming. Again, whether you go for odd or even numbers, and where you place cushions, is entirely personal preference. We're big fans of large symmetrical cushions as the base with smaller, more decorative designs, such as our ruffle circle cushions, taking centre stage. 
Our only true must-have advice is always keep your cushions plump to make them appear inviting for sinking into. We like to use feather inserts and the children take great pleasure in regularly beating them to keep them full. 
COCO & WOLF'S CUSHIONS
We're always dreaming up new shapes, designs and fabrics to use across the Coco & Wolf cushion collection and every single one is designed to work equally as well when layered up or used as a single, hero piece on an armchair, for instance. Small but mighty and in an array of stunning fabrics, we're certain you'll find something to bring some cosy and comfy delight to your home. 
Posted on 07 October 2021