Summer Traditions to Celebrate The Season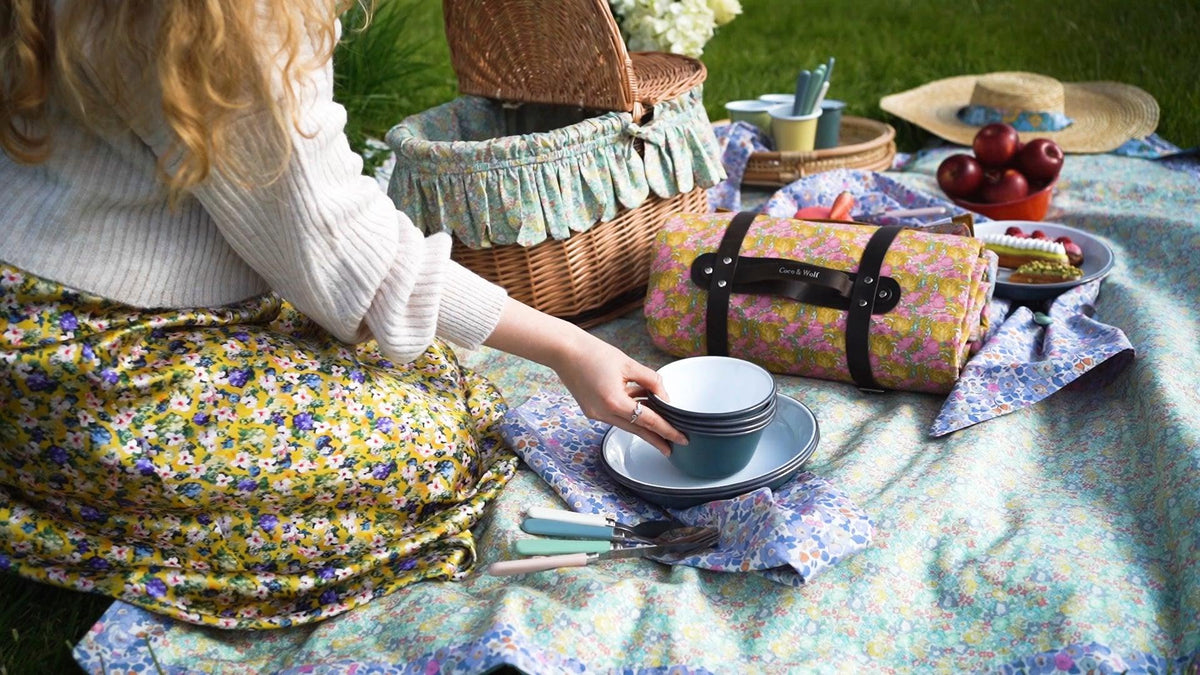 With the summer solstice fast approaching, we're experiencing and enjoying the long, hazy days of summer. At Coco & Wolf we love to live in tune with the seasons and part of this, along with seasonal eating and making changes to our home, we also like to incorporate little rituals and traditions which go with the rhythm of the season. Summertime traditions are some of the loveliest, with lots of time spent outdoors, enjoying nature's abundant beauty. If you don't already have some summer traditions then now is the time to introduce them and we've got a few ideas to get you celebrating the season. 
Skywatching
One of my daughter's favourite memories from lockdown life was when we camped out in the garden and looked for constellations, meteor showers, shooting stars and mischievous fairies, so we've made it a very much looked forward to annual tradition. Our lives are often so busy we don't slow down and enjoy the natural beauty all around us and this is a great summer tradition you probably haven't taken part in which gives us that slow down chance. Hot summer days often mean clear nights which are the perfect time to turn your head towards the sky and enjoy some sky watching. 
While June's full moon has passed, you can look forward to the Buck Moon on 3rd July and two super moons in August, with Sturgeon Moon on 1st August and Blue Moon on 31st. If you're more of a morning person and less of a night own, watching the sunrise can also spectacular at this time of year if you choose the right vantage point. Head for higher ground with a picnic blanket and thermos of tea and enjoy dawn breaking. June 21st brings the longest day, and summer solstice is a wonderful morning to enjoy the sun lighting up the northern hemisphere.
Strawberry Picking
A glorious morning out for all ages, there's something that feels very quintessentially British about heading to a farm on a balmy summer's day and picking your own soft fruits. June is traditional strawberry season, but you will also find raspberries, gooseberries and blackcurrants throughout June and July. Just be warned if taking little ones, more fruit will likely end up in their mouths than in the basket! Floppy sun hats and floral dresses are optional, but in our opinion, very much encouraged.
Flower Farms & Gardens
Heady summer days are the perfect time to make the most of the UK's great outdoors. If you're looking for inspiration, or just to soak up some natural beauty head to an open garden. We love the National Garden Scheme which offers a great and affordable way to discover new gardens you might not have visited before and on their website you can filter your search by countless features. We're looking forward to visiting colourful cottage gardens and those with an abundance of roses over the next couple of months, and it's something to look forward to when summer rolls round each year.
If you would prefer to fill your home with blooms then flower farms are a wonderful new summer tradition to embrace! What could be lovelier than a slow, hazy afternoon picking your own with friends? Many flower farms let you also take along a picnic and sit amongst the seasonal flowers. Never has there been a more fitting setting for a picnic basket laden with picky bits from M&S and a bottle of something sparkling.
Wild Swimming
We've waxed lyrical before about the benefits of wild swimming and how this traditional pleasure's popularity has grown but have you taken a dip yet? We have to admit, while we would love to embrace cold water immersion year round, we're a little more fair weather. However, now we're a little sun kissed and the water is warmer we're taking the plunge - hello new summer tradition! Read our Journal post for even more information about Wild swimming and staying safe while exploring natural pools of water.
Picnics & Outdoor Dining
If you've followed Coco & Wolf for a while you will know that round here, picnics are kind of a big deal! So much so that a few years ago we introduced our now-famous baskets and blankets to elevate your picnic into something chic and cheerful. 
Outdoor dining is synonymous with summer, whether it's a laidback picnic, an evening tea with the children at the park or inviting friends over for a weekend barbecue in the garden. And of course, you can always rely on Coco & Wolf for all the required accoutrements to make it a beautiful affair, from tablecloths and napkins to picnic blankets, cutlery bags and outdoor cushions. 
To celebrate National Picnic Week, we are giving you the chance to win a beautiful Coco & Wolf picnic blanket and basket - the perfect combination for your outdoor pursuits. The competition runs from 17th June - 1st July. Head over to our Instagram to enter. Good luck!